We are a classic, family barbershop offering a clean, fun, and comfortable environment to everyone who walks through our door.
Our clients may arrive feeling stressed out before or after a hard day's work, but they will leave looking and feeling refreshed. Not only do we provide excellent haircuts and a fun place to unwind, but we also want to provide a sense that this is your "home away from home."
At Liberty Barbers, we highly value our relationships and desire to serve our community. It's true that operating a successful,profitable shop is important, but we care about more than just our bottom line. At Liberty Barbers we provide a professional and caring environment for our clients and fellow neighbors. We open our doors to anyone who treats others as equals and with respect. Our commitment to these values sets us apart from other shops and businesses. We cannot thank our supporters enough, and we look forward to serving our community!
About The Owners
Chris Lawson
Master Barber and Owner Chris Lawson graduated from the Massachusetts School of Barbering and has been licensed since August of 2011, earning his Master license in 2013. He holds a Master license in both Massachusetts and Louisiana. With a bachelor's degree in English from Northeastern University, and decades of experience in finance and the service industry, Chris possesses the knowledge, skills, and desire to run a successful shop. In the many years he has been cutting hair here in Louisiana, Chris has developed a long list of devoted clients, and we love having the opportunity to serve each and every one of you!
Book Now
Jenny Lawson
Jenny Lawson is a professional administrator with decades of experience. In May of 2022, she received a B.S. in Human Resource Management at UAB … Go Blazers! Jenny has held a variety of administrative and management positions and prides herself on her ability to run efficient operations. She genuinely loves connecting with and helping people. Aside from providing support for Liberty Barbers, she is also a full-time mom of two dogs and one cat.
Our Barbers
Hannah Redfield
Hannah Redfield is originally from Keene, New Hampshire where she earned her cosmetology license. She has experience cutting hair in New Hampshire and Florida … but found her way to New Orleans where she finally feels at home. She left the hair industry for a brief period and is eager to shift her focus from cosmetology to barbering. She is detail-oriented and takes pride in her work. Her personal sense of style and strong work ethic will serve her well in the barbering field. When Hannah is not at Liberty cutting hair, she is spending time in the French Quarter with her daughter Jemma at the art gallery owned by her boyfriend Jeremy. Hannah works on Thursdays, Fridays, and Saturdays. You can book Hannah online, call for an appointment, or just walk in!
Tye Anderson
Tye Anderson is a New Orleans native and comes from a family of barbers. He splits his time between Liberty Barbers and his family's shop, Nick's in Harahan. Tye has a varied background in the service industry and has been cutting hair for nearly a decade. His skills are vast, and his artistic talent shines through in his work. You will see examples of his beautiful artwork all around New Orleans and he's been commissioned by several business owners to paint murals on their buildings. He spends his limited free time with his girlfriend Victoria and her daughter Stella. Tye works on Tuesdays and Wednesdays; you can book him online, call for an appointment, or just walk in!
Our Beagle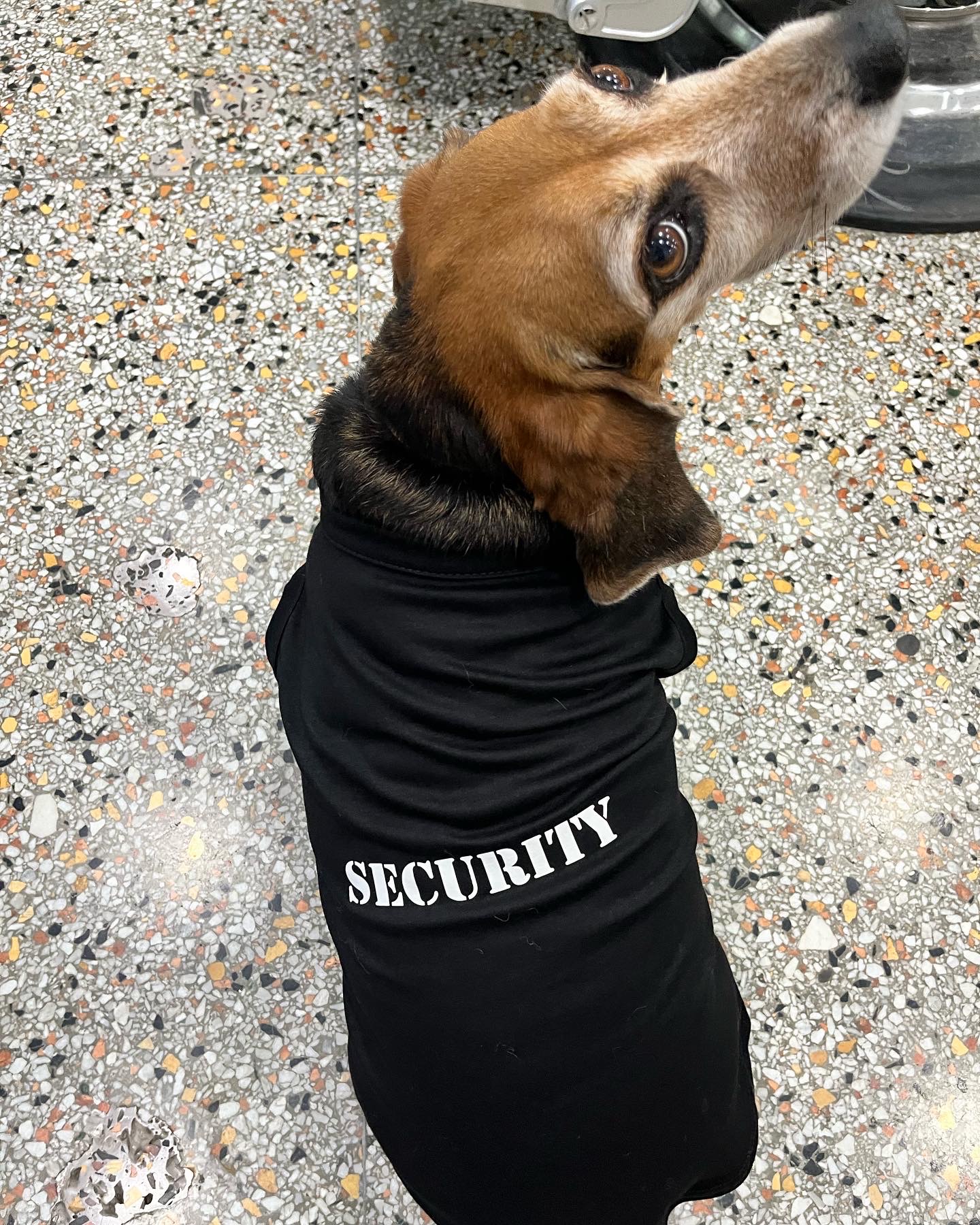 Moxie
Moxie is a beagle from Louisiana. She has nearly a decade of experience being great, eating snacks, and loving her Mommy. Everyone knows that Moxie is great, has adorable cinnamon buns, and wears too much eye makeup. However, a little-known fact about Moxie is that she was originally a giant doggie who was shrunk by wizards. She spends her days sniffing around trying to find those wizards in between naps and getting chonky. Moxie is the Employee of the Month at Liberty Barbers … every month 4-eva.